Exhaust Hood Cleaning in Salt Lake City, Utah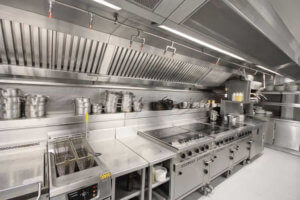 Finally, an exhaust hood cleaning company that's worth your time and money.
Finding an exhaust hood cleaning company shouldn't be a rat race. It should be as easy as picking up the phone and giving us a call. Don't waste your time on the companies that can't take you seriously. If you're due for an exhaust hood cleaning, call us. When you're working with Salt Lake City Hood Cleaning, you're truly working with the best.
Our team of exhaust hood cleaning technicians trained excessively to become the top hood cleaners in Salt Lake City. We take our job seriously. You need a kitchen that will pass inspection and a hood system that will blow inspectors away.
When we are done with a commercial kitchen cleaning service, we want to be proud of our job and be proud to eat a meal in that restaurant. Yes. We just said that. Think about it. We get in there and see the darkest dirtiest places in a restaurant. So if we're willing to come in and eat a meal at your restaurant, it's because we know we did a darn good job!
Exhaust hood cleaning isn't just a luxury.
If you've been in the commercial kitchen business for a while, the fact that you need a regular exhaust hood cleaning may not surprise you. Some restaurant managers who are still new may not realize that exhaust hood cleaning isn't just a luxury. It's often required by insurance companies and the board of health that a restaurant has their exhaust hood system cleaned regularly.
"Regularly" is a grey area, because every restaurant is different. If you're interested in specific requirements, we suggest that you contact your insurance company or the board of health. However, as a general rule, for a restaurant that does frequent frying, you should have an exhaust hood cleaning every 90 days.
So what does an exhaust hood cleaning include?
Exhaust Hood systems are mighty important to the functionality of a commercial kitchen. They do a very important job, which is filter out smoke and grease. This prevents grease fires. Now, the thing about it is, even though they are supposed to PREVENT grease fires, they can also cause them. That is, if they are not maintained and cleaned properly.
Grease build up in the exhaust system could become too hot and ignite. Grease fires are especially nasty fires to deal with. So here are some things that we will always do during a standard exhaust hood cleaning:
Full inspection of the system

Record and inform restaurant manager or owner of current condition and any potential risk factors present

Adequately take apart exhaust hood system and clean thoroughly

Apply steam cleaning/pressure washing as needed

Use FDA approved cleaning chemicals

Offer adequate solutions for any potential risk factors in the exhaust hood system
The great thing about Salt Lake City Hood Cleaning is that we can offer additional services on top of exhaust hood cleaning. We can also offer complete commercial kitchen cleaning, commercial kitchen equipment cleaning, fire extinguisher services, and more. So if you decide you like our work, contact us to do your whole restaurant. You can also check our About page to know more about our company.
Exhaust hood systems are a real hot spot for inspectors. Even though we all see inspectors as the Dr. Evils of restaurants, they are also trying to help out in pointing out potential risk factors. But let's not allow them to get to that point. Let's get that thing SHINING!
Best Exhaust hood cleaners in Salt Lake City
When you're working with us, you're working with the best. If you're a restaurant owner in the Salt Lake City area, and you need a top hood cleaner, contact us now at (385) 247-5511.